Get Rid Of The Snow! The Icy Windshield With This Cool Tool…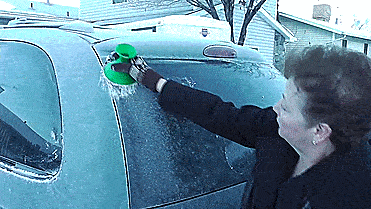 Looks super awesome right? This Magical Car Ice Scraper is an ingeniously designed ice scraper and snow remover that's cone-shaped, so you can simply move it in any direction or in circles to remove more snow from your car at a time.
It also works as a funnel to easily add washer fluid to your car without spilling all over the place.
 Just remove the tip of the ice scraper and it instantly turns into a funnel.
Features:
Scrape off a huge chunk of snow in seconds 
Cone-Shaped: Allows you to move the wiper in any direction 
Lightweight & Compact: Easily store it in your car trunk/glove compartment 
Easy To Use: Just wipe off even the toughest ice on glass  
Practical: Can also use it alternatively as a liquid funnel! 
It Won't Damage Glass: No scratching or breaking even with sticky frost! 
Ergonomic & Comfortable Grip
Product Specifications:
Material: Plastic
Size: Diameter 14.5 cm/5.7 Inches
Shape: Cone
Color: Black /Blue / Red/ Green